Portrait of Italy From the Amalfi Coast to Venice

From the breathtaking Amalfi Coast to eternal Rome, through the gentle Umbrian and Tuscan countryside to timeless Venice, this wide-ranging tour showcases ancient sites, contemporary life, priceless art, and beautiful natural scenery. You'll especially appreciate the small size of your group as you stay in unique accommodations in the Tuscan countryside and in a medieval village.
Portrait of Italy
This trip is sold out. Reserve your spot on our waitlist while they last!
Dates: April 2-17, 2024
Please note, all prices are for a standard, double room unless listed otherwise.
From San Francisco (air-inclusive): $5,574
Land Only (transfers not included): $4,395
*Other cities listed on brochure, which can be downloaded on the overview tab of this trip. Airline prices are subject to change, and airline upgrades will be additional to the costs listed above.
Your Tour Price Includes:
Round-trip air transportation from listed cities
14 nights' accommodations in Superior First Class and First Class hotels
22 meals: 14 breakfasts, 8 dinners
Extensive sightseeing as described, including all ­entrance fees
Services of an Odysseys Unlimited Tour Director
Private motorcoach transportation throughout your trip
Luggage handling for one bag per person
Gratuities for local guides, dining room servers, airport and hotel porters, and all drivers
$100 frequent traveler credit towards your next ­Odysseys Unlimited tour ($200 after 3 tours; $300 after 10 tours)
If you would like to reserve your place on the Italy tour, fill out the reservation form on the back of the trip brochure and email it to IEtravel@ucsc.edu.
On receipt of your signed reservation form and deposit, we will, subject to availability, reserve your place on your trip.
Travel Dates: April 2-17, 2024
B = Breakfast, L = Lunch, D = Dinner
Accommodations:
Hotel San Francesco, Maiori (Amalfi Coast) / Days 2-4 / First Class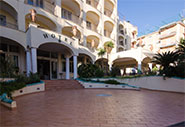 Situated amongst orchards of citrus trees and floral gardens, the contemporary Hotel San Francesco stands across the street from the longest beachfront stretch of the Amalfi coast.  The 44-room hotel features a restaurant and bar, safe deposit box, complimentary Wi-Fi internet access, laundry service (for a fee), private beach with beachside bar, and a swimming pool overlooking the beach.  Each air-conditioned guest room offers a private terrace and has a private bath with hair dryer, minibar, TV, and phone.
Monti Palace Hotel, Rome / Days 5-7 / Superior First Class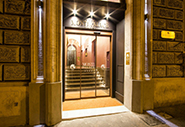 Sitting just a 10-minute walk from Rome's famed Colosseum, the Monti Palace Hotel occupies a 19th-century building in the heart of the Eternal City.  Amenities of this stylish and contemporary hotel include a rooftop bar with terrace overlooking the city, library bar and lounge, 24-hour fitness center, laundry services (for a fee), and complimentary Wi-Fi internet access.  Air-conditioned guest rooms have private bath with hair dryer, in-room safe, minibar, tea- and coffee-making facilities, TV, and phone.
Grand Hotel Italia, Orvieto (Umbria) / Days 8-10 / First Class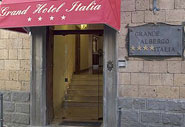 Located in Orvieto's medieval town center, this refurbished 19th-century building with hanging gardens sits close to some of Orvieto's key points of interest, including the Palazzo del Popolo, Moro Tower, and the Duomo.  The intimate 46-room hotel also features a bar, rooftop terrace, library, complimentary Wi-Fi internet access, and laundry and dry cleaning service (for a fee).  Air-conditioned guest rooms have private bath with hair dryer, in-room safe, TV, and phone.
Villa San Filippo, Barberino Val d'Elsa (Tuscany) /
Days 11-13 / First Class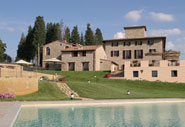 Located within the Chianti Hills surrounded by vineyards and olive groves, this 18th-century antique villa is a family-run country retreat, part of the Italian tradition of agriturismo, the preservation of rural ways of life. The 21-room Villa San Filippo features a Tuscan-style dining area and bar, walking gardens, safe-deposit boxes, laundry and dry cleaning services, internet access, and outdoor pool. Each air-conditioned room includes private bathroom with hair dryer, TV, and phone. There are no elevators. Please note that because of the unique nature of this family residence, room sizes vary.
Carnival Palace Hotel, Venice / Days 14-15, Extension / Superior First Class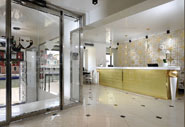 Opened in 2012, the contemporary Carnival Palace overlooks the Cannaregio Canal in the heart of historic downtown Venice. Along with a garden and waterfront terrace bar, the 67-room hotel offers Internet access and laundry service. Guest rooms have Venetian furnishings, private bath with hair dryer, mini-bar, in-room safe, TV, and phone.