Travel back in time to explore Ancient Greece with UC Santa Cruz's Inspired Expeditions!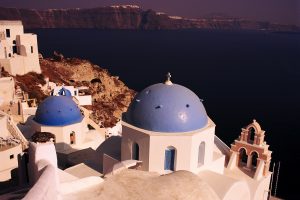 Unearth the grandeur of the ancient world on this singular journey combining premier archaeological sites with the beauty and lore of the Aegean and her isles. As the ancient world comes alive in Athens and the Peloponnese, Crete and Santorini, we celebrate the glory that was Greece–and still is today.
Ancient Greece
Dates: May 29 – June 11, 2022
Please note, all prices are for a standard, double room unless listed otherwise.
Land Only (transfers not included): $5,395
From San Francisco*: $6,692
*Other cities listed on brochure, which can be downloaded on the overview tab of this trip. Airline prices are subject to change, and airline upgrades will be additional to the costs listed above.
Your Tour Price Includes:
Round-trip air transportation from listed cities (see brochure); all flights within itinerary
12 nights' accommodations in Deluxe, Superior First Class, and First Class hotels
24 meals: 12 breakfasts, 5 lunches, 7 dinners
Extensive sight seeing as described, including all entrance fees
Services of an Odysseys Unlimited Tour Director
Private motorcoach transportation throughout your trip
Luggage handling for one bag per person
Gratuities for local guides, dining room servers, airport and hotel porters, and all drivers
Travel Dates: May 29 – June 11, 2022
B = Breakfast, L = Lunch, D = Dinner
Please Note
Local Conditions and Physical Activity
We will do our best to adhere to our printed itinerary. Occasionally, though, unexpected obstacles – and opportunities – may arise that will force us to deviate from the itinerary as written. We would ask you to be open-minded and flexible should we vary the itinerary slightly. In addition, please note that airline schedules are subject to change. We will provide you with updated flight information closer to your
departure. Additionally, this trip involves considerable walking on uneven or cobblestone streets and at sites of ancient ruins, and you should be in good physical condition to enjoy the tour to the fullest.
Hotel Accommodations
Our hotels in Athens, Heraklion and Santorini occupy central locations in their respective cities, all of which are thickly settled, historic districts. Thus, the entrances to these three properties are not accessible by coach. To reach the hotels, you will be required to walk a short distance uphill upon arrival. As always, your luggage will be transported by hotel porters.
Audio Devices
Odysseys Unlimited provides state-of-the-art audio headsets for all guests to use on this tour. These devices enable you to hear the commentary offered by your tour director or guide during visits to museums, historic sites, and other stops on your tour where crowds may make it difficult to hear. They also allow you to stay a few steps behind as your group moves forward. Please note that a limited number of hearing aid-compatible headsets will be available as well.
Dean Mathiowetz
Dean Mathiowetz is Associate Professor of Politics at UC Santa Cruz. He is a political theorist with interests in democratic theory, the history of political economy, philosophy of language, and the politics of "mindfulness". He is the author of Appeals to Interest: Language and the Shaping of Political Agency and numerous articles; he is currently working on a book project on the relation of luxury culture and democracy, including the reflections of ancient Greek thinkers on this relation.
Mathiowetz's interests in political theory were sparked when he enrolled in Ancient Greek Political Thought as an undergrad at the University of Minnesota. He has been teaching his ever-evolving version of this course annually since his arrival at UC Santa Cruz in 2003.
Vaccination Requirement
For all tours departing from August 1, 2021 onward (until further notice), guests, tour directors, and long distance coach drivers must be fully vaccinated  to participate in an Odysseys tour. This means that travel must occur at least two weeks after their final vaccine dose (2nd dose in a two-dose series or 1st in a one-dose series). Please note that long distance coach drivers would include those with the guests for extended periods and/or multiple days (short airport and hotel transfers may not require driver vaccinations).
Guest Health and Safety Protocols (new Face Mask and Physical Distancing Guidelines)
As you have likely seen, on May 13, 2021,  the CDC released updated guidance clarifying the activities that fully vaccinated individuals can safely resume. The full CDC recommendations can be found here. In keeping with this new guidance, Odysseys Unlimited guests will no longer be required to wear a mask or practice physical distancing while on tour, including while on the motorcoach, except where required by local regulations and businesses.  Guests will still be required to wear a mask on international and domestic flights, in transportation hubs such as airports, and on other forms of public transportation. The updated Guest Health and Safety Protocols document outlines this further and is attached for your reference.