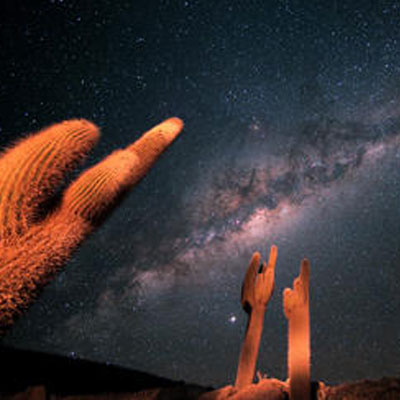 Visit Chile with UC Santa Cruz's Inspired Expeditions
Explore one of the most spectacular corners of the world. We'll first journey to see Valparaiso the historic port city of Chile and a UNESCO World Heritage Site. Next, we'll venture north to see world-class observatories and behold the Southern Hemisphere's dazzling evening skies. Go behind the scenes to meet astronomers who are peering deeper into the universe than ever before.
Through special permission see the amazing telescopes of the Magellan Project at Las Campanas Observatory and future site of The Giant Magellan Telescope as well as Gemini South and the Southern Astrophysical Research Telescope (SOAR). Finally, we travel Chile Lake District site of the total solar eclipse. The area is best known for its spectacular scenery made up of emerald green hills, snow-capped volcanoes, historic fishing villages, Chilean cowboys, farms speckled with cattle and sheep, lush forests, national parks, and clear lakes. Enjoy the remarkable views, hiking on a volcano, ancient araucaria forests, and geothermal baths. On our return to Santiago, we'll have our farewell lunch at the Kingston Winery owned by an American family for five generations.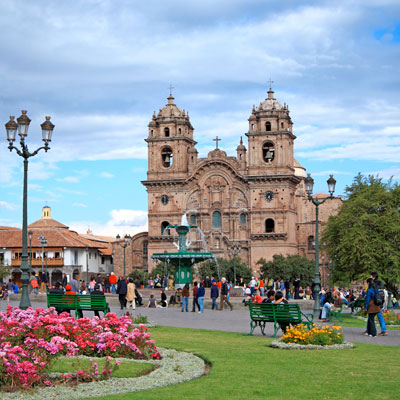 Chile and the Skies of the Southern Hemisphere
Travel Dates: March 16 – 26, 2022
Program Cost (per person, double occupancy)
Standard Room: $7,975
Superior Room: $8,035
Suite Room: $8,096
Single Supplement, Standard Room*: $995
Single Supplement, Superior Room*: $1,075
Sample Coach Airfare (San Francisco/Santiago/San Francisco): $733
*Please note that this is an additional cost.
Extensions
Easter Island Pre-Trip Extension (per person, double occupancy): $3,150
Easter Island Pre-Trip Extension (single supplement): $550
Sample Round Trip Coach Airfare to Easter Island: $690
Patagonia Post-Trip Extension: $3,650
Patagonia Extension (single supplement): $550
Sample Round Trip Airfare to Punta Arenas: $365
**Passengers that were signed up on the Eclipse 2020 trip that has been postponed due to the COVID-19 pandemic will receive a $3,000 credit
Trip Fee Includes:
Hotel accommodations in deluxe (5-star) hotel in Santiago and first class or best available hotels throughout the itinerary based on two persons sharing a room with a private bathroom as follows:

3 nights Plaza el Bosque Ebro Hotel, Santiago
2 nights Hotel Club La Serena, La Serena
1 night Hotel Diego de Almagro, Temuco
2 nights Hotel Pucon Green, Pucon – standard rooms

Upgrades available (see above)

Early check in on March 16, 2022 at the Plaza El Bosque Ebro, Santiago
English speaking Tour Director exclusive to UCSC group
Land transport by private motor coach
4 internal flights (Santiago/La Serena, La Serena/Santiago, Santiago/Temuco, Temuco/Santiago)
Meals as indicated on the itinerary including a special welcome and farewell dinners
Wine with all dinners and farewell lunch
Bottled water during outings
Baggage handling
Tips to local guides, drivers, service charges and taxes
Entrance fees on itinerary excursions and visists
Arrangement for all private visits to the observatories
All domestic airport departure taxes
All the normal administrative expenses, coordination, and mailings
Invoicing and airline ticketing
Customized luggage tags and name tags
Pre-trip notes including a Travel Guide
Chile and the Skies of the Southern Hemisphere
Travel Dates: March 16 – 26, 2022
Matthew Shetrone, Deputy Director of UC Observatories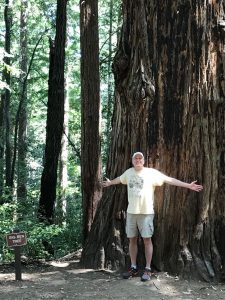 A love of exploration
As a young child, Matthew Shetrone loved to explore. He would go hiking with his Boy Scout troop and marvel at archaeological finds. Later, he embarked on travels to Australia and Europe. Today, Matthew has expanded his horizons to exploring extra-solar planets, massive galaxies, the early universe, and other phenomena. Like explorers and archeologists he enjoys forging into the darkest and least known areas of our world with the most cutting-edge tools available.
See the broader world outside science
Matthew credits his teacher Gale Cope as the most impactful person in his early life. She often pushed him "to see the broader world outside of science": theater, art, athletics, nature, and culture, and wanted all of her students to be well-rounded people and active community leaders. Her influence on Matthew continues to shine today through his love for experiencing foreign cultures by traveling, and running on new trails or neighborhoods.
Matthew completed his undergraduate degree in astronomy at the University of Texas at Austin. He then attended UC Santa Cruz where he completed his Ph.D. in astronomy and astrophysics. From his experience with optical telescopes at McDonald Observatory as an undergraduate and the Keck and Lick Observatories as a graduate student, Matthew was hooked on optical astronomy. Ph.D. in hand, he went south of the equator to the European Southern Observatory (ESO) in La Silla, Chile.
Broadening one's scope
Matthew quotes his experience in Chile as being life-changing. "Working as a postdoctoral with ESO was by far the culturally richest experience in my life. On a daily basis I would hear English, French, Italian, German, and of course, Spanish. Working closely with European and Chilean astronomers opened new ways of thinking and new collaborations that would last me a lifetime." After several years abroad Matthew moved back to Texas to help develop science operations for an innovative optical telescope, the Hobby-Eberly Telescope, which had the largest optical mirror in the world. With the completion of a recent upgrade to dedicate large amounts of that telescope time towards solving the evolution of Dark Energy, Matthew was ready for new challenges.
"Who could have a better job than mine?"
Matthew has returned to the University of California system as the Deputy Director for UC Observatories. Regarding his job, he says, "On a daily basis I get to work with some of the most talented astronomers in the world and the largest and most well equipped telescopes in the world. Who could have a better job than mine?".
This will writing essays provide you with an easier time of deciding on the research paper subject you will enjoy writing about.